Welcome to Mulhuddart Community Centre
This state of the art community facility was built to  be a focal point that provides opportunities and encourages the community to participate in cultural, leisure, educational and recreational activities in a welcoming environment.
Éire Vedanta Society are hosting a series of Yoga Classes here at Mulhuddart Community Centre starting on Saturday February 22nd from 10am - 11.30am weekly. For more information please contact 089 456 5917 or email info@rkmireland.com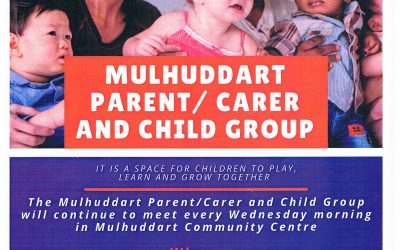 The Mulhuddart parent/carer and child group will continue to meet every Wednesday morning here at Mulhuddart Community Centre. The first meeting of 2020 will take place on Wednesday January 15th from 10:00am to 12:00Noon. The usual charge of €2 per family will apply....
Due to Staff training the Centre will be closed from 9:00am to 13:30pm on Monday January 6th 2020.  We apologise for any inconvenience caused. Thank you