Banner001-2022
banner002-2022
IMG_20210923_115104
IMG_20210923_115035
Welcome to Mulhuddart Community Centre
This state of the art community facility was built to  be a focal point that provides opportunities and encourages the community to participate in cultural, leisure, educational and recreational activities in a welcoming environment.
When do the clocks go forward?
'The Final Sunday in March'

 The clocks always go forward the final Sunday of March,
which this Year means, it will change on
Sunday the 26th March.
A day earlier than last year.
Good News: Switching to BST we will get more daylight in the evening,
Bad News: That Sunday morning lie-in will be cut short by an hour.

Check The Time: 'Here'


Annual
Blanchardstown Parade
The Party Begins at 1pm
Parade starting point: Is along the Castleknock Road  then onto Blanchardstown Village's Main Street.
Turning left onto Snugborough Road, until entering Westend Retail Park roundabout  continuing into the Blanchardstown Shopping Centre Complex. 
For more information please see information pack

(DOWNLOAD)

Temporary Road Closure St Patricks Day Parade- Blanchardstown (DOWNLOAD)

Additional needs area beside Garda station – email events@fingal.ie to book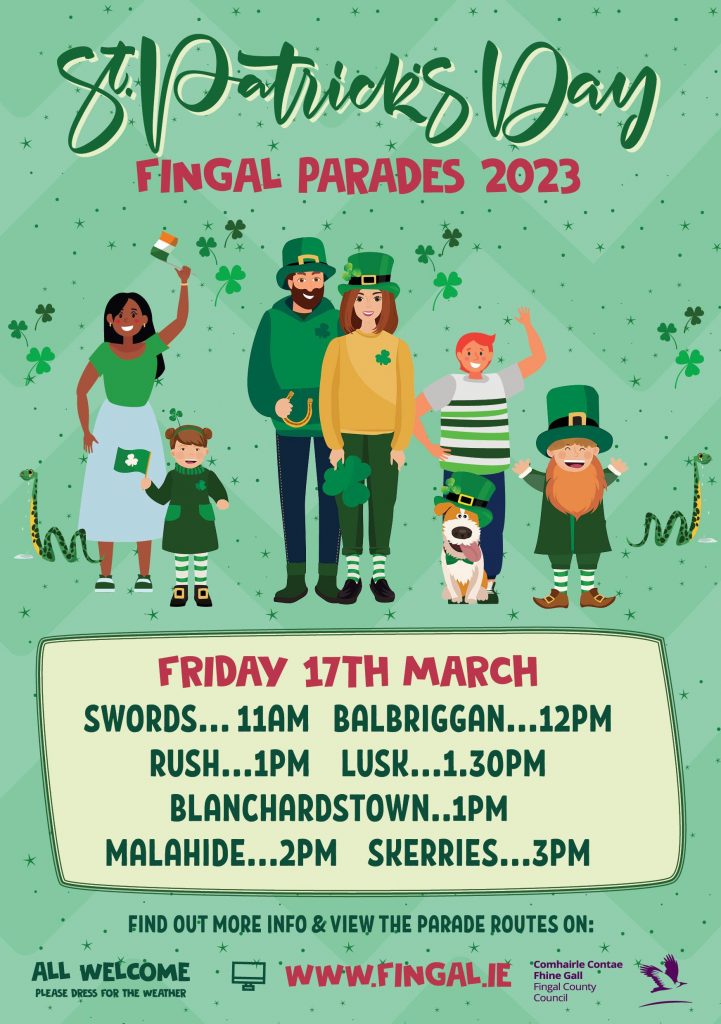 23rd February FREE Garda Marking Clinic. Thursday 23rd February from 2-3.30pm.Protect your valuables and help recover them if stolen. Household items, laptops, bikes, scooters, tools etc.Please share to local schools and resident associations.For more about...